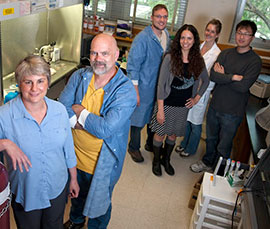 We are a very busy, dynamic lab. 
Our goal is to determine how environmental stressors influence the risk and severity of complex diseases, including neurodevelopmental disorders, asthma, Alzheimer's disease and seizure disorders.
Altered patterns of neuronal connectivity and persistent neuroinflammation are associated with neurological deficits. Therefore, we are investigating how environmental contaminants, chemical convulsants and inflammatory mediators trigger neuroinflammation and/or perturb neuronal connectivity as determined using biochemical, morphometric, electrophysiological and behavioral endpoints.  We are also developing biomarkers of neurotoxicity and testing novel therapeutic approaches for protecting against the neurodegenerative effects associated with acute intoxication with seizurogenic chemical threat agents.
See below for currently funded projects.